This week we're reviewing a fantasy western about a butler turned god and a lawman turned noble. Also known as Brandon Sanderson's The Alloy of Law.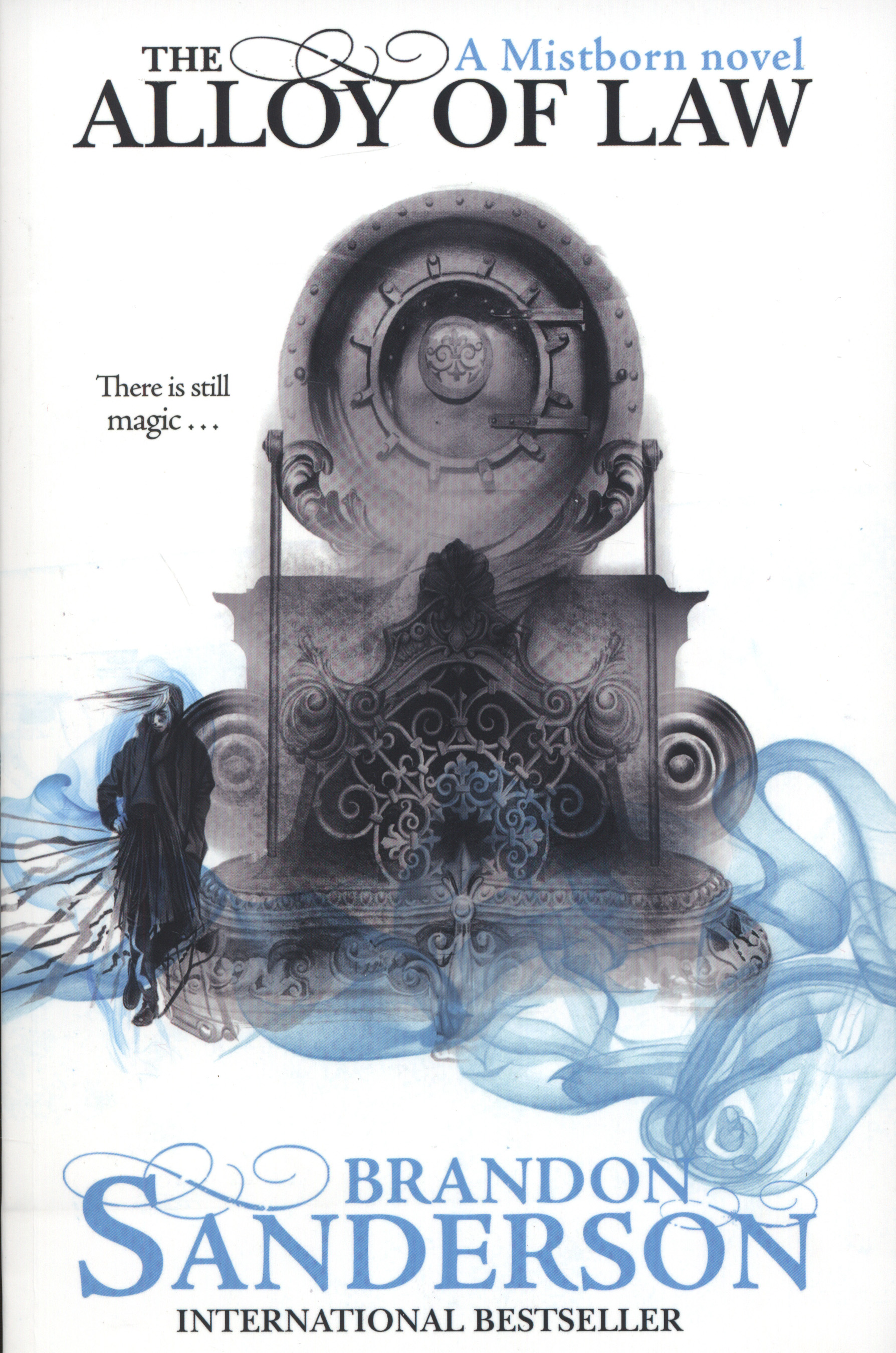 Because cowboys and demi-gods didn't have the same ring.
Synopsis
    The Alloy of law is an off shoot of Sanderson's Mistborn series and is set about 300 years after Hero of Ages. The Alloy of Law tells the Story of Waxillium Ladrian, better know as Wax. Wax is what is referred to in-universe as Twin Born, meaning that through a combination of superpowers he inherited from his parents genes he can alter his weight and push most metal with his mind. Wax starts the story as a lawman searching for a serial killer and through a singularly unfortunate event turns in his badge and moves to the big city to take over the estate of his deceased relative whom left everything to Wax. The story then goes through his struggle to try and manage his new life as the head of a noble house as well as putting his life as a lawman behind him. Of course things don't go as planned and Wax is forced into a new mystery that involves metal, women and magic.

Like this but with more magical acrobatics.
Review
Characters
I've mentioned before that I believe that Sanderson is one of the best character writers in the business today, and The Alloy of Law attests to that assertion, Sanderson fills his novella with a plethora of interesting characters. Wax being this weird combination of city born noble turned lawman leads to people in the rough calling him either refined or a dandy, while people in the city look at him as mysterious cowboy or an unsophisticated brute. His partner is a wise cracking reformed criminal who can speed up time and talk his way out of most situations, whilst the female lead is a nerd with a bit of kickass and dash genius thrown in for good measure. With The central antagonist being a immortal charismatic ex-lawman.
The only problem I had with the Characters, was with Wax, the protagonist. Wax spends most of the story swung between extremes of being noble and being lawman, which is one of the major conflicts in the books first act. The problem is that after every other chapter Wax seems to become a different person, after one chapter he becomes a metallurgist seemingly out of nowhere. Sanderson went big with multiple POVs in a novella, sometimes even multiple within a chapter. Unfortunately this left Wax feeling a little disjointed in a few scenes. The nice thing to note is that these scenes are short and don't cause to much of a stumbling block for the reader.
Setting
For those of you new to Scadrial, the fictional land that the Mistborn series takes place in you'll be happy to know that you won't have to read the rest of the books to understand whats what. Thanks to some spoilers that I won't reveal happening in The Hero of Ages.
Scadrial now features a new wild western styled "roughs" as well as some lush green plains and a large skyscraper buildings in a city called Elendel. Sanderson does a good job introducing these new environments and over the course of whats is a very short book, makes the world feel very large.
Sanderson's series has always featured unique fantasy environment and The Alloy of Law hold true to that, replacing kingdoms and empires with republics and industrialization making for a rather different kind of story then most fantasy reader's are used to while keeping the feel that Mistborn fan's enjoyed. The only problem that came up was that the setting seemed to be a step down, from the Scadrial of Original Mistborn Trilogy. Luthadel was just as much Character as Vin or the Lord Ruler, it was a living breathing organism playing the parts of both the antagonist and the protagonist. The same could be said for all of the locations of in Sanderson's earlier books albeit a bit less prominently. Elendel and the roughs are great locations, but that's all they are.
Though it might be fair to lay blame at the constrictions of the novella, a story of this size just doesn't get to have the feeling of a large sweeping world and  be a world with great depth. Perhaps with future novels and novellas Sanderson will bring back that feeling of a deep, evolving magical world.

Not that kind of magic.
Plot
The plot is a hard thing to review without giving out to many spoilers, I can however safely say that the plot of this novella is engaging and fun to read, With the main plot being rather straight forward, the romantic subplot being welcome even if it's not great and with a couple of twists thrown in for good measure. On top of that the main arc for the protagonist Wax is well thought out and excellently executed. Overall Sanderson has crafted and enjoyable story to follow. Also two guys fight on top of a train.

Like this, but with 20% more magic.
Accessibility
One thing that any offshoot needs to be able to handle is accessibility, not every one who reads The Alloy of law is going to have read MistBorn series. That being said, Sanderson dumps new readers right into his world, explaining things as they come to the readers attention. It was actually interesting to read after heaving read the previous series, it's obvious that Sanderson is expecting new readers with this book and he helping pull them in as well as inform them. His exposition works well and never hurts the pacing or the dialogue. What I did notice is that this book makes several references to it's predecessors, and while I can't say for sure but, I'd imagine that it would seem out of place for these random things to keep popping up that would seem to have little relevance to the actual story. However for those who have read it's nice to see that the worlds hasn't forgotten the events of the last three hundred years entirely.
Bottom line
Sanderson has built an enjoyable novel with strong pacing , unique concepts, well thought out characters set in an expansive world with and an entertaining story that promises future installments. The downsides is that the novella has a packed a lot of history into it'self which will be alien to any new readers as well as having a main character who doesn't truly feel solid instead bouncing between multiple personalities(Though I'm sure many will argue thats is the point of Wax's character). Returning readers will be glad to see that world Sanderson left it not one that simply lived happily ever after, instead they be able to see the Scadrial is dynamic, ever changing, generating new stories and always having another secret.
With the paperback and the E-book squaring out at $8 USD, the story is well worth the price of admission and advise anyone who enjoys a good fantasy book to give it a try.